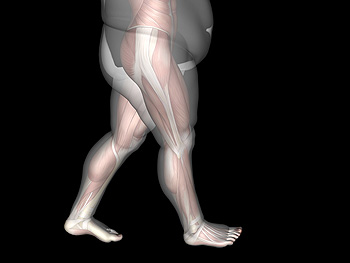 Obesity affects every part of your body - including your feet and ankles. People over 60 who are obese have been found to experience more foot pain, have reduced toe and ankle strength, and have a slower walking speed, among other problems. Excess body weight strains the lower limbs, leading to functional and structural changes that can impact your mobility and quality of life. This is particularly the case for older adults. One of the best ways to maintain the health of your feet and improve your overall health is to eat a healthy diet, exercise, and lose weight. Unfortunately, this can be very difficult if you have foot and ankle pain that makes it harder to exercise or even stand for long periods of time. A podiatrist can help you reduce foot and ankle pain and increase your mobility so that you can improve your quality of life. For more information, please consult with a podiatrist. 
Obesity has become very problematic at this point in time and can have extremely negative effects on the feet. If you're an obese individual and are concerned about your feet, contact one of our podiatrists from Podiatry Care Specialists. Our doctors can provide the care you need to keep you pain-free and on your feet.
Obesity and Your Feet
Since your feet are what support your entire weight when standing, any additional weight can result in pain and swelling. Being overweight is one of the main contributors to foot complications.
Problems & Complications
Extra Weight – Even putting on just a few extra pounds could create serious complications for your feet. As your weight increases, your balance and body will shift, creating new stresses on your feet. This uneven weight distribution can cause pain, even while doing the simplest tasks, such as walking.
Diabetes – People who are overweight are at serious risk of developing type-2 diabetes, which has a drastic impact on the health of your feet. As you get older, your diabetes might worsen, which could lead to loss of feeling in your feet, sores, and bruises. You could also become more prone to various infections.
Plantar fasciitis – Pressure and stress that is placed on muscles, joints, and tendons can trigger plantar fasciitis, which is an inflammation of tissue that forms along the bottom of the foot. 
If you have any questions please feel free to contact our offices located in West Chester, and Broomall, PA . We offer the newest diagnostic and treatment technologies for all your foot and ankle needs.
Read more about How Obesity Affects Your Feet